Hello,
On January 22, 2011 I lost my only 2 children in a car accident. A split second and my entire world was shattered. I spent the next few years picking up the pieces of my shattered life. Part of rebuilding my life has taken me back to school. I am currently enrolled in a Masters in Counseling program. My goal is to be able to help others like me who've had their lives ripped apart.
HOPE. That has been my word from the beginning. After the shock wore off and my brain slowly began to function my initial thoughts were of the hope God offers us. One of the first things that raced through my mind was a fragment of a verse I'd memorized long ago. As quick as lightening the thought "God works all things together for good" flashed through my mind. The realization that God could bring something good out of anything, even losing my children was a promise I clung to. I have been clinging to that Hope, that promise from God with a death grip. It is what gets me up in the morning, it's what keeps me taking that next step.
This blog is a step toward that goal. I hope by sharing my story others can find comfort and hope in their situation.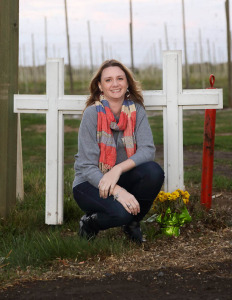 This is me out at the accident site.