The first week of July I went to a family reunion in the Midwest. I spent a peaceful week on my uncle's farm reconnecting with uncles, aunts and cousins. One of our activities was to visit several cemeteries. I know this sounds odd, many of us in the younger generation thought it was. But it was a way for Dad and his 5 brothers to pass on family history. While I know most of the family stories, I did learn some new things.
There is one family story I have heard about since I was a little girl. I've always been interested in it, but this time the story came alive for me in a way I wasn't expecting. It's the story of the train accident.
In 1919 my Great-Grandpa George piled his wife and several of their children into their car to drive the preacher home. On the way a train going backwards through the train crossing struck the car. My Great-Grandmother Lily, who was pregnant at the time, and the 3 youngest girls were killed. My 4-year-old Grandpa spent a month in the hospital.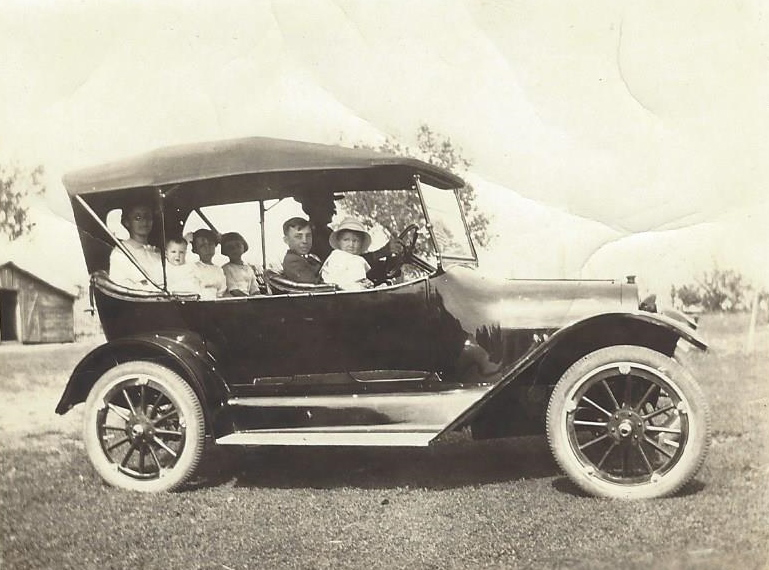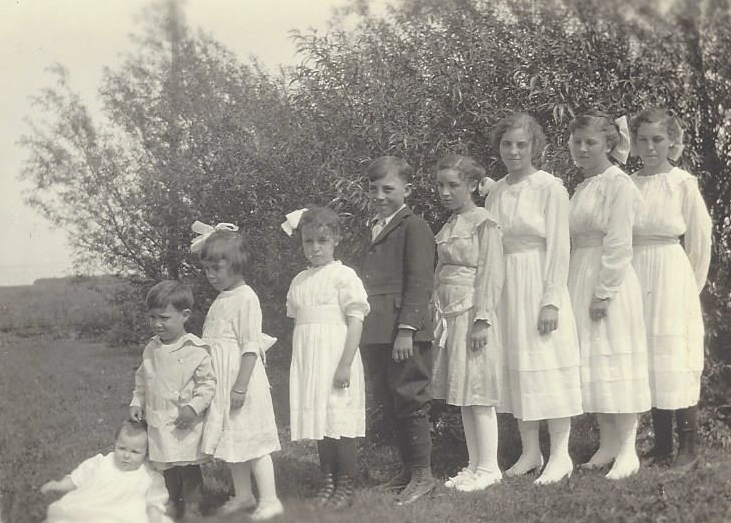 The newspaper article on the accident is surprisingly graphic. It included gruesome detail about how Lily and the youngest child died. Though I've known this story for most of my life, reading the article was shocking.
Yet there are things not included in the article that have become part of my family history. I know that after the accident George went to his mother and said, "I killed my family". The guilt he must have felt having been the one driving the car. My grandpa came home from the hospital and went through the house looking for his mom. No one told him she had died. My grandpa grew up without a mother and when he married my grandma he said, "Now I have a mother". (I recently learned my grandma found this romantic). My grandma had to teach my grandpa how to celebrate birthdays and holidays, because this was not something George did with his surviving children.
I always thought it was sad George never celebrated his children's birthdays or holidays. I will admit on some level I judged him for it. But now I understand. Birthdays and holidays are so hard without my boys. It's easier to respond to those days the way George did, pretending they don't exist. I have no desire to celebrate the holidays. My birthday is hard without my boys. Their birthdays are even harder. While there are a few holidays I tolerate, most I'd just rather ignore. In this I feel a kinship with my great-grandfather.
Like George I know the anguish of losing more than 1 child in a tragic accident. I understand the depression and fear he must have felt from that day forward. And thought I don't carry the guilt he must have felt, I can imagine it compounded his feelings of grief.
During the family reunion last month we stopped by the accident site. The family gathered around my Uncle Robert, the oldest of my dad's brothers, as he again told the familiar story. We wandered around the area trying to find evidence of the train tracks long since removed.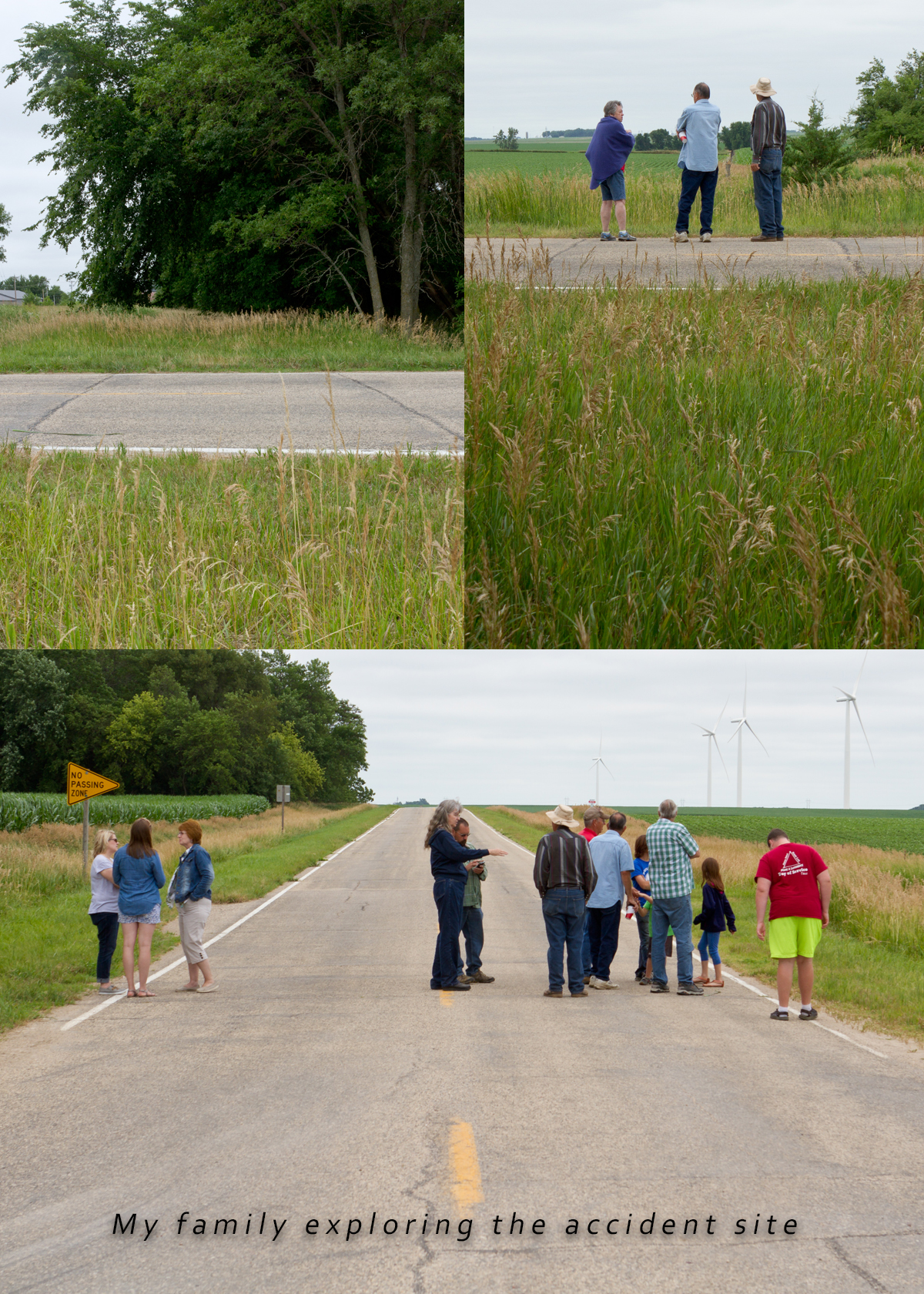 My cousin was able to identify the train bed and we were able to see where the road had been repaired to accommodate the missing tracks. As I stood on the ground where the train tracks used to be, and faced the direction the train had been traveling, I could see my family wandering on the road where the impact happened. And it struck me, nearly 100 years later and we are still talking about this accident. I was filled with awe and overwhelmed by the meaning of what I was witnessing. Tragedy like this doesn't just effect those involved, it effects future generations.
After my uncle recounted the story, my Uncle Chuck stated to my cousins and I "If you think your grandpa was odd, or your dad's are odd, this accident is why". This tragedy shaped my grandpa, who he was and how he lived his life. It affected my grandpa's personality and how he raised his boys. My dad and his brothers were raised by a father who'd suffered trauma and loss at a very young age. Trauma shaped their lives. My cousins and I were raised by fathers who learned how to deal with life through the lens of trauma.
Standing on that quite Midwest road I couldn't help but wonder if George would have liked knowing we are still talking about him and those lost in the accident. Three and four generations later and we still remember, as a fellow grieving parent, I know George would have liked that. Though I now understand my Great-Grandpa George in a way only another grieving parent could, he had something I don't . . . surviving children. He has descendants who 100 years later still remember him and those he lost. I have no surviving children. I will never be a grandmother or great-grandmother. I can't help but wonder, who will be at my children's accident site to remember them 100 years from now.