This blog post is late. The process of going through my oral boards for school took a lot out of me. (There is a blog post on this coming soon). As a result when Devin's 14th birthday came around, I was still recovering. It took me a week and a half to feel like myself again. Now that I'm recovered (I think) I'm ready to start posting again. 🙂
Devin would have turned 14 on February 26th. I missed his 10th birthday . . . turning double digits. I missed his 13th birthday . . . becoming a teenager. Every time one of these days passes I remember what I'm missing.
Instead of another list of all the things I've missed, I thought I would share some memories with you.
Devin and I had our own special way of measuring his growth. Sure we had the standard marks on the wall, where every first and last day of school new marks were added for both boys. But Devin and I did something that was just for the two of us. We'd put our palms together and spread out our fingers. I could see how much he'd grown by how long his fingers were against mine. Today, his fingers would probably be longer than mine.
One night Devin and I were being silly. He was telling me the names of his fingers. Yes, he'd named his fingers. I wish I could remember the names of his thumb and forefinger. But I do remember the names of the last 3 fingers. Billy, Bob and Billy Bob. Every time he named off his fingers, I'd go into a fit of giggles. He kept repeating them, because I kept laughing. It was a fun game.
Devin would often do or say the funniest things. I used to say all the time "you never know what's going to fall out of that kids mouth". The other day my sister found an old Facebook post of mine from September of 2010. It was a conversation I'd had with Devin that I'd forgotten about. It made me laugh to remember.
Devin: "Mom you know how Adam named all the animals. Well who made all the words?"
Mom: "God made the words"
Devin: "I think it was Eve"
Such a smart, funny kid.
Because of the way my classes are structured, I was not able to get out of class on Devin's birthday. This was the first time I was not able to take the day off from my responsibilities and spend it with my family. I knew with all the stress over orals the birthday might end up being harder than normal. Stress tends to exacerbate grief. The fact that I couldn't take the day off concerned me a lot. I wasn't sure how the day was going to go, or if I'd be able to deal with it.
My sister came up with the idea of the family coming to class for a visit on my break. I thought that was a good idea, so I asked a few of my classmates if they'd be ok with that. Everyone agreed, so the plan was set. My mom bought a 5 pound Hershey bar, in honor of Devin's birthday, to share with everyone.
For Devin's 6th birthday my sister bought him a 5 pound Hershey bar. The candy bar was almost as big as he was. I left it sitting out on the counter and all 4 of us would break off pieces to munch on. One  day after school Devin's kindergarten teacher mentioned to me that he'd been a bit more hyper in class than normal. I knew immediately the cause was the giant Hershey bar. I guess he'd eaten more of it than I realized. Sneaky imp. 🙂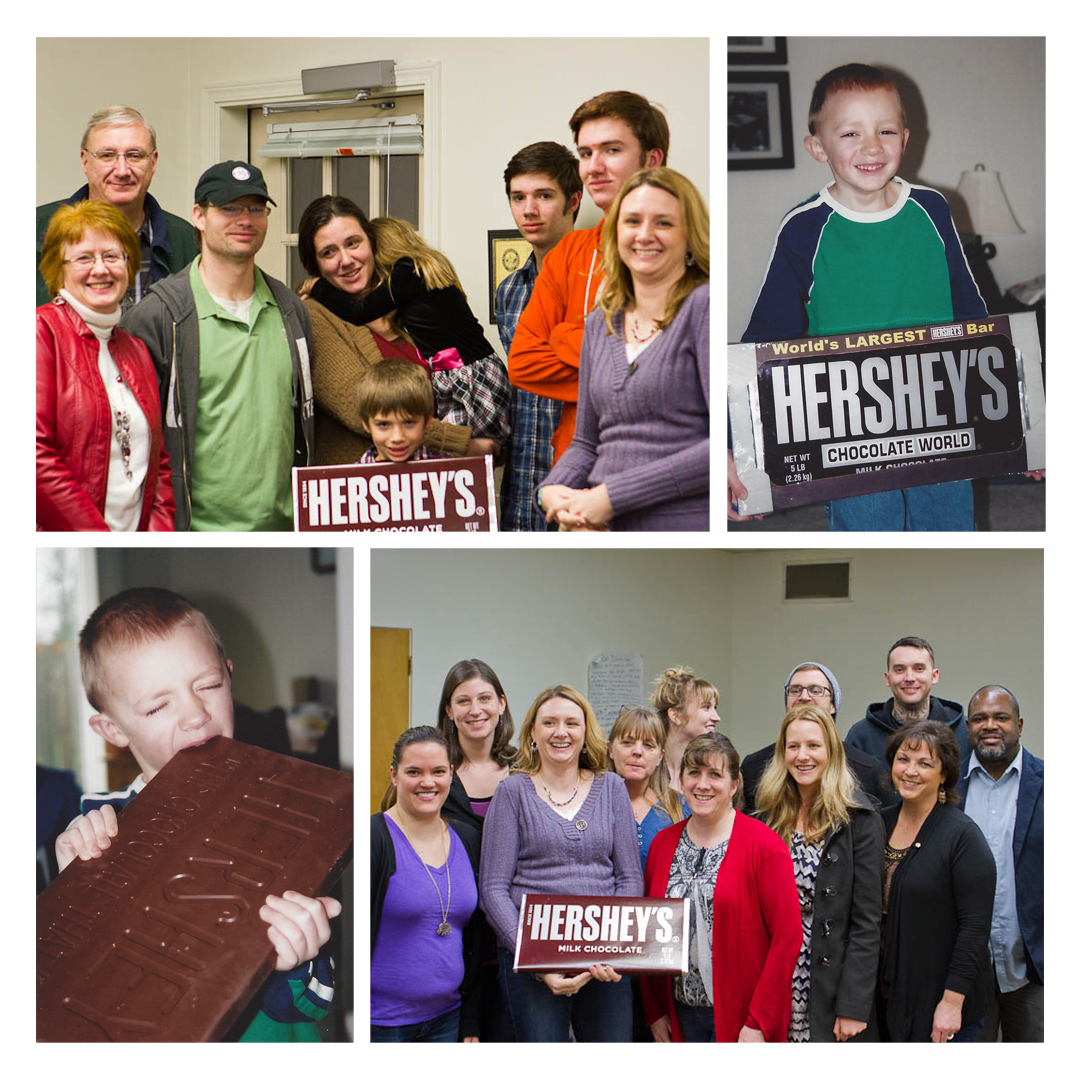 We thought sharing a 5 pound Hershey bar with the class would be a great way to remember Devin on his birthday and celebrate the end of orals. My family arrived and introductions were made. The candy bar was broken up and shared. It was a nice way to spend Devin's birthday.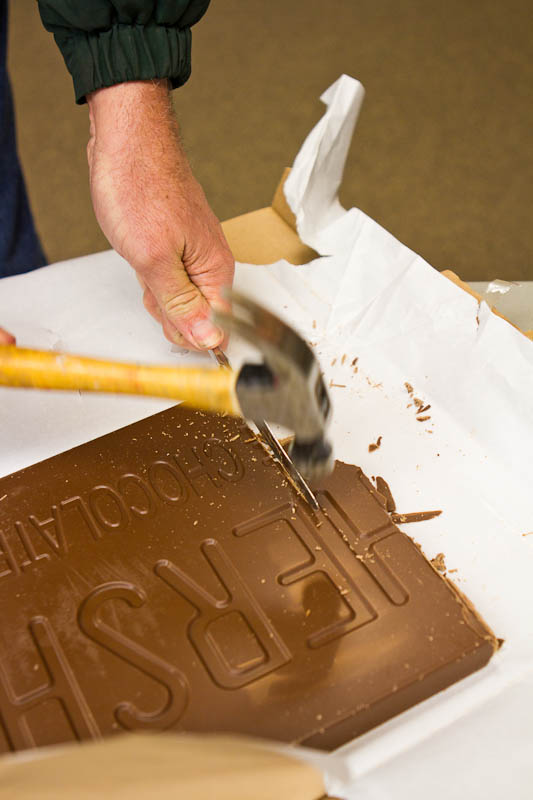 As I was driving home from class that night I started to feel weird about having my family come to class. I felt like I had unnecessarily dragged my class into my grief, and dragged my family to my school when they didn't need to be there. In short, I felt foolish. Like I had made a big production of something that could have and should have remained small and private. It took me a few days to realize why I was feeling this way. I've progressed through my grief enough that I can handle these days without the need for a big production. For every birthday and accident day that has passed my family has gotten together to remember the boys with a special activity and dinner at one of the boy's favorite restaurants. We've done balloon releases, lantern releases, launched rockets, worn silly bands, played with Dawson's go cart, done light painting and we've even gone to a MythBusters display at OMSI in Portland. I knew that someday these activities would stop. And though I'm not sure we've reached that point, it's nice to know I don't NEED them anymore.