When you are grieving the loss of someone their birthday is no longer about celebrating another year. It's about remembering them. And that's not what a birthday is supposed to be about.
Yesterday was, my oldest son's 16th birthday. Dawson would have been 16 years old. Sixteen!!! No matter how many times I say that, I just cannot get over the fact my baby boy would have been turning 16 years old. No longer a baby, and no longer a boy. He would have hit that magical age of 16 years old, a teenager on the verge of becoming a man.
My memories of Dawson stop when he was 12 years old, a pre-teen on the verge of puberty. He was still into Transformers and Bionicle action figures. He loved airplanes, astronomy and knowing how things work. If anything needed to be put together he was the one I called. He loved building things. He built his own transformer costume out of cardboard boxes. He and his Grandpa built a go cart. He was so proud of the fact that his 1st Lego robotics team dubbed him the "master programmer".
Yesterday he would have turned 16 years old. A landmark year, a birthday party year. When the boys were young I decided they would have big birthday parties on the landmark years. 5, 10, 13, 16, 18 and 21 are the years that deserved special recognition. I missed out on throwing Dawson his 13th birthday party and now I'm missing out on his 16th birthday.
I'm missing so much.
I wonder all the time how tall he would be? What would his voice sound like? What would he be like as a teenager? What kinds of interests would he have developed as childhood slipped away? Would he be interested in girls yet?
I won't get to teach him how to drive. I missed his graduation from 8th grade and his entrance into high school.
As time goes on, I will miss out on even more. I will miss out on watching him participate in high school activities. I will miss his first date. I will miss watching my son graduate from high school, going off to college, getting married, and providing me with grandchildren.
I feel like I've been cheated. I was so looking forward to having teenage boys in my house. I was looking forward to seeing what kind of young man my son would become. I will never have the answers to my questions. And I'll never be able to see my son grow into a man. To quote Dawson "It's not fair".
I miss my boy so much. I miss watching his mind work as he built something. I miss his intensity. I miss his laugh and his smile. I miss fighting with him over food. I miss the teenage attitude he'd started to develop. I miss teasing him and being teased in return. I miss our movie nights. I miss his adventurous spirit and our bike rides.
I miss so much.
For Dawson's 12th birthday he received a rocket from his Aunt and Uncle. At the time of the accident the rocket sat unopened in his room. Because his birthday is in the winter and so close to Christmas, we never had a chance to play with it.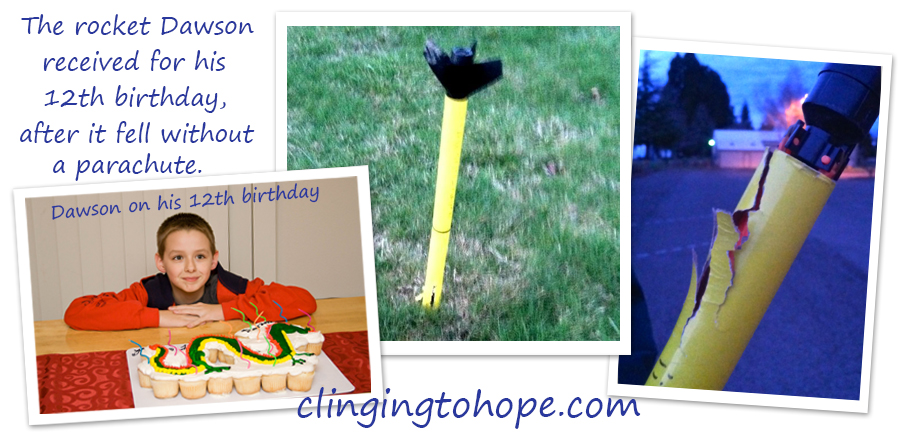 Every year since the accident we have launched Dawson's rocket on his birthday. Last year the rocket broke. The parachute did not open and when it fell back to earth, it hit the ground hard.
This year Dawson's Uncle bought 2 new rockets so we can keep the tradition going. Dawson's grandparents, aunts, uncles and cousins all gathered to launch the new rockets. We'd planned to start launching the rockets at 2pm. But in true family fashion, it was 4pm before we had all the problems worked out. We launched the first rocket and watched it disappear into the clouds. When it came back down, it landed in the trees far beyond our reach. The first rocket was lost. So we moved locations to launch the second rocket, farther away from the trees. Woosh! The second rocket launched. This rocket had a second booster, which shot it well beyond our vision. The second rocket was lost as well.
Even though the afternoon was filled with launching issues, it was a great way to spend Dawson's 16th birthday. I just wish he could have been with us.
I thought it would be fun to share part of Dawson's birthday with you so I made a short video of the rocket launches.