Last week I had an opportunity to share my story in church. It was an amazing experience. I was able to talk about topics I have become very passionate about in front of a large number of people. After telling my story I was able to share how God has comforted and supported me through the people around me. I had the opportunity to describe a little of what grief feels like. And I was also able to talk about how to respond to others who are grieving.
Checkout the complete video
At the end of the video I suggest asking 2 questions before saying something to a newly bereaved person. These questions "Am I saying this so I don't feel uncomfortable?" and "Am I saying this to make them feel better, or remove their pain?" are to help someone examine why they want to say something. Often times the words we say, though meant to help, can actually cause more pain.
I've been thinking about these questions I mentioned in the video, and I realized I left off with an attitude of what not to say. So I'd like to pose another question for you to ask yourself. "How can I show this person I care, or that I love them?"
This is what it comes down to. As grieving parents we need to know that you care. Support doesn't come in the form of magic words that make it all better. Support comes in the form of people expressing their concern and love. Some of my favorite expressions of support, love and caring were the little things people did.
I loved it when people would come over and clean my house. I was totally incapable of doing small things. Getting out of bed was a major accomplishment. Having people take care of the normal life tasks that were to hard for me made me feel cared for.
My sister used her knowledge of the car insurance industry and took care of all the insurance stuff that needed to be handled. By offering to help in this way, she took a huge burden off my shoulders.
For 3 months cards and gifts poured in. But it wasn't the gifts that mattered, it was the recognition that we were hurting and needed support.
For a year my cousin sent me handmade cards. She recognized that support was needed long after most of the crowd had gone back to their normal lives. I looked forward to the cards every month and they decorated my table for a long time.
My photography club showed their support in many unique ways. One of my favorites was on the first year anniversary of the accident. They posted pictures on the club page for me and talked about what I meant to them. That expression of caring made me feel so special.
So many members of my extended family flew out right after the accident. It was amazing. They carried me through that first week more than they know. But it didn't stop there. Other family members came to visit throughout the year. It was so nice to have people coming at various intervals during that first year. It gave me something to look forward to.
My best friend flew me out to visit her in South Dakota. I spent a week with her family being spoiled. She took such good care of me; I didn't want to go home.
I have an uncle whose story is somewhat similar to mine. He has shared a bit of his story with me and allowed me to ask questions. He has been a wonderful source of wisdom.
One of the most amazing expressions of support came from a wonderful young woman. She organized a gift-giving brigade for my second holiday season without the boys. I didn't realize what was going on at first. I happened to catch her leaving a gift on my doorstep. She's such a sweet person; I didn't think anything of it. The next day I came home from work to find another gift on my doorstep. But it wasn't until the 3rd day I realized what was going on. From December 1st thru January 22nd, a group of women left gifts on my doorstep. It was so amazing! During the hardest time of my year I had something to look forward to when I went home. I didn't have to go home to an empty house, which once was alive with my kid's energy. I was able to go home and feel cared for by the random gifts left on my doorstep. I still distinctly remember the night my favorite gift arrived. I was chatting with my sister on my Bluetooth as I pulled into my driveway. That's when I saw several paper snowflakes hanging in front of my door. I'm pretty sure I squealed. It was so beautiful and thoughtful. I haven't decorated my home for Christmas since the accident. But that year I had snowflakes decorating the outside of my house. I left them up for as long as I possibly could, and when I took them down, I saved as many of them as I could.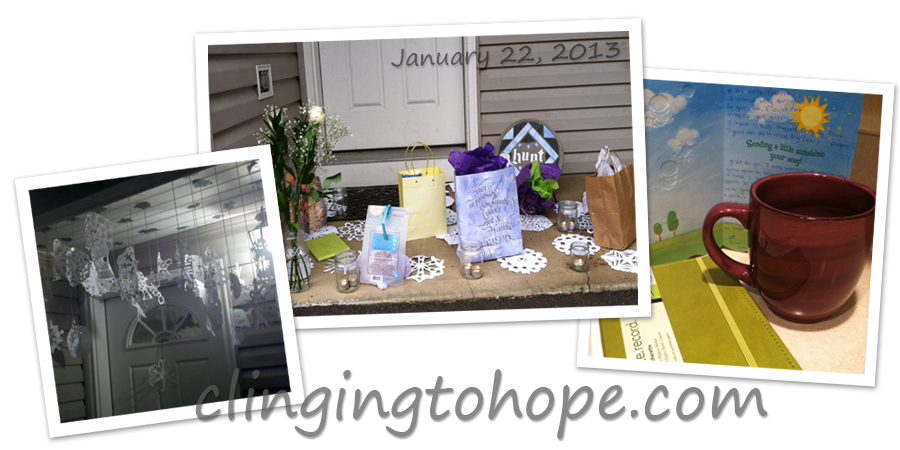 Each person who has offered me support has done so in unique ways. Many people offered support through prayer. Others supported me by their presence or act of service. Some used their talents or abilities to help me with life tasks or to brighten my day in some way.
Everyone is different. Everyone who grieves does so in their own way. Everyone who offers support does so in their own way. No offer of love or support goes unnoticed or unappreciated. Even if those of us who are grieving don't express our gratitude, I can promise you we are extremely grateful to those people who show us love, support and caring.
So let me ask you, what can you do to SHOW someone who is hurting that you care?